That's right!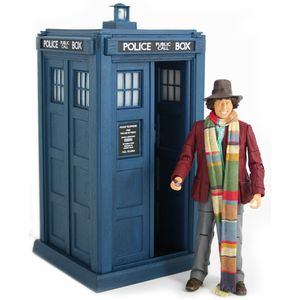 Forbidden Planet 4th Doctor & TARDIS Toy Exclusive
News Dated: 1/4/2010
Forbidden Planet are launching another exclusive Doctor Who action figure of the 4th Doctor, complete with an Electronic version of his TARDIS (from Planet of Evil), in another deal with Character Options.
This Doctor masked his brilliant and inventive mind behind a façade of bohemian eccentricity. The longest lived incarnation of the Doctors so far, he was forced to change his body after losing a fight with his old enemy the Master and falling from a radio telescope to the ground beneath him…
In this exclusive Fourth Doctor Set is the Fourth Doctor action figure with his classic Electronic TARDIS as they appear in the 'Planet of Evil'. The Doctor comes in a red jacket with alternate head and Sonic Screwdriver accessory.
The TARDIS features opening doors, a spring activated right hand door and takeoff and landing light and sound effects.
The 4th Doctor & Classic Electronic TARDIS is available to preorder via the Forbidden Planet website, and will be available in May.
*COUGH* Repetitive *COUGH*